ROYAL ORDER OF FRANCIS I
Francis I had endured the somewhat difficult role of heir apparent for forty-eight years before succeeding to the Crown on his father s death in 1825. The Order of Francis I was founded by him on September 28th 1829, as an award of civil merit for distinction in public service, science, the arts, agriculture, industry and commerce. The king was Grand Master, and it was awarded initially in five classes, grand cross with star, commander, knight and a gold and silver medal. By a reform of December 21st 1858, these were extended to eight classes classes, grand cordon (or grand cross with riband), grand cross, commander with star, commander, knight first class, knight second class, and two medals. The grand cordon and grand cross were only awarded to gentleman who had been of the greatest service to the crown and state while the other grades were primarily intended to award civil servants or the clergy, but were occasionally given to private citizens.
The badge is a white enameled, eight pointed, gold cross, with a gold fleur de lys between each arm, surmounted by a crown (except for knights second class). In the center is a roundel with the monogram F.I. below a royal crown, surrounded by a wreath and the motto De Rege Optime Merito; on the reverse was the inscription Franciscus I instituit 1829. The breast star is similar but with silver arms and gold fleurs de lys, with only the roundel enameled. The breast star of grand cordon and grand cross is identical, that of commander slightly smaller.
The grand cross was originally worn around the neck, like that of Saint George of the Reunion but the additional grade of grand cordon was suspended from a riband worn from the right shoulder to the left hip. The Order was governed by the Grand Master, who delegated the administration to a commission under the presidency of a knight grand cross, with two commanders and two knights who fulfilled the function of secretary and archivist.
A decree of the king of Sardinia dated September 7th 1860 abolished the two Sicilies Merit Orders but this was not accepted by either Francis II or the Count of Caserta the latter made a total of forty-eight awards of this Order to Italians, of which eight were grand cordons and three were grand crosses, and granted the grand cordon to several of his sons.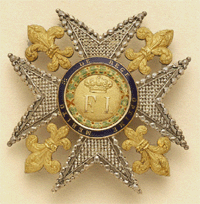 Grand Cross Badge of the Order of Francis I